Investing in a new roof may seem daunting, but it is an important decision that can significantly impact the safety and value of your home. As a trusted provider of roofing solutions in North Carolina, Excel Roofing Solutions understands the importance of a new roof and the benefits that it can bring to homeowners.
In this blog post, we will discuss the benefits of investing in a new roof and answer frequently asked questions. First and foremost, a new roof can enhance the safety of your home. If your current roof is old or damaged, it may risk collapsing or causing structural damage to your home. Also, a new roof can provide the necessary protection to keep your family safe and prevent any costly repairs in the future.
A new roof is a significant investment:
First, it can greatly improve the curb appeal and resale value of your property. Prospective buyers will appreciate the quality and craftsmanship of a new roof, which can translate into a higher selling price for your home.

Additionally, it can also save you money on energy bills. Furthermore, if your current roof is not properly insulated or sealed, it can allow air to escape and cause your heating and cooling systems to work harder.
Moreover, by investing in a new roof with proper insulation and ventilation, you can effectively reduce your energy costs and significantly improve the overall efficiency of your home. Additionally, this upgrade can lead to enhanced comfort and increased sustainability.
Investing in a New Roof – FAQs
How Long Does It Take To Install A New Roof?
The timeline for installing a new roof depends on various factors such as the size of the top, the materials used, and the weather conditions. However, on average, a new roof installation can take anywhere from a few days to a few weeks.
Contact us and learn more – Best Roofing Company Near Me Contact
How Much Does A New Roof Cost?
The cost of a new roof depends on various factors such as the size of the roof, the materials used, and the complexity of the installation. At Excel Roofing Solutions, we offer competitive pricing and financing options to make the investment in a new roof more affordable for homeowners.
Do You Offer Financing Options?
Yes, we offer financing options to fit your budget. We understand that investing in a new roof can be a significant expense, and we want to make it as affordable as possible for you.
Contact us and learn more – Best Roofing Company Near Me Contact
Do You Need a Permit to Replace a Roof in NC?
Yes, in NC you need a building permit for all work that involves:
Construction
Reconstruction
Alteration
Repair
A movement to another site
Removal
Demolition of any building or structure.
Click HERE and Learn More!
Benefits Of Investing In A New Roof
Increased Energy Efficiency

High Return on Investment

Enhanced Curb Appeal

Reduced Health Risks
Investing in New Roof – Resources
Contact Excel Roofing Solutions Today!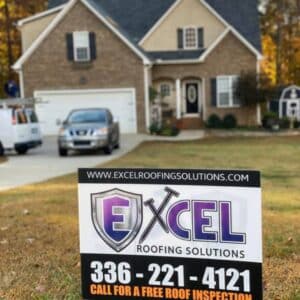 Investing in a new roof is a smart decision that can bring various benefits to your home. Not only does it provide enhanced safety, but it also increases the value and energy efficiency of your property. A new roof becomes a valuable investment that significantly improves the quality of your life. In case you have any further questions about the process of investing in a new roof, please don't hesitate to contact us at Excel Roofing Solutions. Additionally, our team of experts is readily available to assist you and provide detailed information tailored to your specific needs. – (336) 221-4121